Learning Leaders
Every class has a Learning Leader. Elections for Learning leaders are held every September and if you are lucky to be selected you will be in office for one academic year.
A Learning Leader is responsible for helping the school move forward, raise funds for educational equipment and relay any important information to their classes and parents.
If you are interested in being a Learning Leader, you need to stand for election in September. You will need to give a short presentation to your class on why you want to be a Learning leader. The children in your class will vote and if you are successful you will be a Learning Leader.
GOOD LUCK!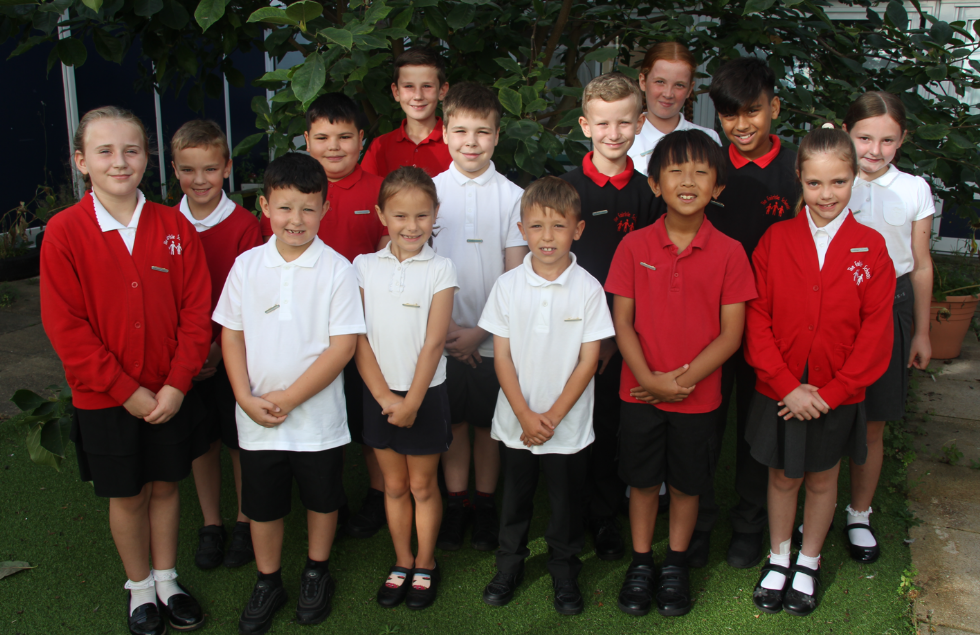 Our 2023-2024 Learning Leaders
Ronnie
My name is Ronnie, I like to listen to others, and I like to make people smile. I like to learn and I like my teachers.
Jack
My name is Jack, I like football, and I like football teams. Basketball is also good, as well as pizza.
Natalia
I like animals such as horses, dogs, tigers, bunnies and leopards. I really like going to Poland because I have cousins there. I have fun when I go horse riding because I really like horses.
Jeff
I like gaming because it makes me happy. I set goals for myself. I also like arts and crafts because I get to make stuff. I recently made a board game, which I will make for more players.
Daniel
I like football, Art, Maths, Tennis and school. I play football every Monday except during the holidays. Maths and Art are my real favourite subjects, with tennis as my second. I love school because I am with my friends and teachers.
Rosie
I like biking, Maths, football and holidays.
Isla
I like swimming and I swam for Swim England. I also like dancing because it takes my mind off everything that I think about.
Finley
I like a lot of things, here are some of them: football, school, swimming, and Christmas.
Olivia
I love to do horse riding and my other favourite thing is to draw cats. My favourite school is FJS. It is the best. Piano playing is also cool!
Amelia
I like that I love others. I am respectful and caring to people. I like playing with all of my friends and I like doing many of my family things.
Nathan
I like to draw and create things with Lego. I also like to play with friends and watch TV. Another thing I like to do is play video games. Also I like spending time with family. I enjoy cooking.
Jack
I like sausage dogs and my favourite hobby is running.
Louis
I like mixed martial arts, Olympic wrestling, football, playing with my friends, my family, cats and FJS!
Archie
There are multiple things I like such as resilience and I like gaining confidence and learning new skills.
I love animals and I think being a Learning Leader is good for me as it will give me more responsibility.
Charities
At our first meeting we discussed what charities we wanted to support and how we would raise the money. The charities that we will support are set out below. We will hold non-uniform days to raise the money.
Simon Says - 20th October 2023
Dylan's Quest - 8th February 2024
Crazy Hair Day for Brain Tumour Research – 28th March 2024
Wessex Heartbeat – 24th

May 2024
There will be a disco on Tuesday 17 October. All funds raised from the disco will go towards resources for our school. See newsletters for more information.
At Fairisle Junior School we support a lot of different charities each year. Together, we have decided not to raise money for 'Children in Need,' 'Sports Relief,' and 'Comic Relief' as these charities raise an enormous amount of money each year. We have discussed this in one of our assemblies and we found out that nearly all of us contribute to these charities anyway with our families.
The charities that we have picked to raise money for are not so well supported and need our help.