Bridge Education Trust (Southampton)
27th February 2023
To all Parents and Families
At a meeting of the school's Governing Body on 23rd February 2023, it was decided to:
Change our school category from Community to Foundation; and
Establish a charitable Trust named Bridge Education Trust (Southampton), which is a co-operative membership trust with effect from 1st March 2023.
This is in line with the consultation and published statutory proposal.
The decision was taken as the Governing Body believe the Trust will raise standards through the creation of a platform for on-going improvement. The resources and expertise brought to the Trust by the partners will strengthen strategic leadership, increase support and challenge and consolidate effective monitoring, thereby promoting improvement in outcomes for pupils.
The mutual co-operative nature of the membership trust with its high levels of stakeholder involvement and accountability will greatly assist in further raising the profile of education across our community and lead to enhanced community cohesion.
This decision followed a consultation process during which all relevant parties were consulted and consultation meetings were held for staff, parents and the general public. The unions and trade associations were also consulted. Statutory guidance was followed. The views of those consulted and any representations from the Statutory Notice were considered by the Governing Body before deciding to proceed to implementation.
The school will continue to be run and managed by the Governing Body as before with the additional benefit of Trust nominated Governors and our partners to assist us in our future developments.
Should you have any questions please do not hesitate to contact us.
Yours sincerely,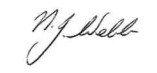 Nikki Webb
Chair of the Governing Body