w/c Monday 20th April
PE
Continue to join Joe Wicks at 9am for his daily PE lesson on his YouTube channel. It's a fun way to start the day. Don't forget to encourage your family to join you!
The Saints Foundation
Take part in a quick 5 minute 'Fast Blast' high intensity workout with Saints players. There are different videos to choose from and they are easy to follow. You could use this as a fun and active break during your day. There are also English resources to help you refresh your skills and they're all Saints themed!
BBC Bitesize
From Monday 20 April, Bitesize is expanding. You will be able to access daily Maths and English lessons as well as other core subjects on the website and also on special programmes that are being broadcast of BBC iPlayer and BBC Red Button. There will be new videos, practice tests, games and articles, so make sure you check it out!
Maths
Don't forget to continue to visit White Rose Maths to develop your mathematical knowledge. Watch the lesson, complete the activities and then check your answers.
Get active, have fun and apply your maths skills at the same time! Look at the Maths on the Move Home Challenge Sheet at the bottom of this page!
English and Maths Home Learning Packs
The Hamilton Trust have created free weekly Home Learning packs for each year group for both English and Maths and more will be added each week! From Week 3, the Maths Packs include teaching PowerPoints that explain the concepts, practice activities and support if you are finding any tasks tricky. There are also challenging problem-solving activities to make you really think and apply what you know. The English Packs have revision prompts to remind you of learning and answers are provided so you can check your success. There are notes for your parents too.
English
Explore the Kids' Zone on LoveReading4Kids. There are videos from authors talking about the books they've written and even giving you story writing tips. Try writing your own story using the advice or ideas from the authors. There are also activities to download, quizzes, competitions to enter and lots more reading-related activities. Have fun discovering this site!
Road Dahl's website has lots to entertain you! You can listen to and watch your favourite stories being told (and even learn sign language at the same time). Learn from the famous illustrator Quentin Blake himself as he teaches you how to draw some of the most well-loved Roald Dahl characters. It's fascinating to hear and see how he develops his illustrations. Did you know that he's illustrated all of Roald Dahl's books (except one)?
Other famous children's book illustrators have shared their creations and top tips and CLPE (the Centre for Literacy in Primary Education) have collated these for us to watch. Learn from them and have fun creating your own characters! You could illustrate your own story!
Enjoy listening to a wide range of books for free! You can stream books instantly on desktops, laptops, phones or tablets. You don't need to sign up, just take a look at the stories, read the synopsis and make a selection to start listening straight away.
Down by the River
Our topic for this half term is 'Down by the River'. Can you find out about the journey of a water droplet? Where would their journey begin and where would they end up? Can you create a diagram to show the journey of a water droplet? You could describe what happens to them or even write in role as a water droplet. Here are some websites to help you.
https://water.usgs.gov/edu/watercycle-kids-int.html
https://www.bbc.co.uk/bitesize/topics/zkgg87h/articles/z3wpp39
How does the Internet work?
Can you find out? What would life be like without the Internet? What are the positive and negatives to having the World Wide Web? Record your findings in your Home Learning book. Here's some websites to help you with your research.
https://www.bbc.co.uk/bitesize/clips/zsyr9j6
https://www.youtube.com/watch?time_continue=40&v=c5q3XkTfamk&feature=emb_logo
Discover The Great Indoors
Scouts have put together a range of engaging activities for you to try at home. There are lots to choose from such as making mini-rafts, leaf animals or finding out about fair trade through the activity Fairly Baked Bananas! There's more than 200 activities ideas to inspire you.
The Eden Project
Are you green fingered? Do you enjoy getting crafty? The Eden Project is an educational charity with a visitor centre in Cornwall which houses the largest rainforest in captivity. They've put together many ideas for you to try at home. You can learn more about The Eden Project by investigating the website.
Be a Teacher
Here's the answers to the previous maths problem. Be the teacher and see how you got on by marking your work!
The problem: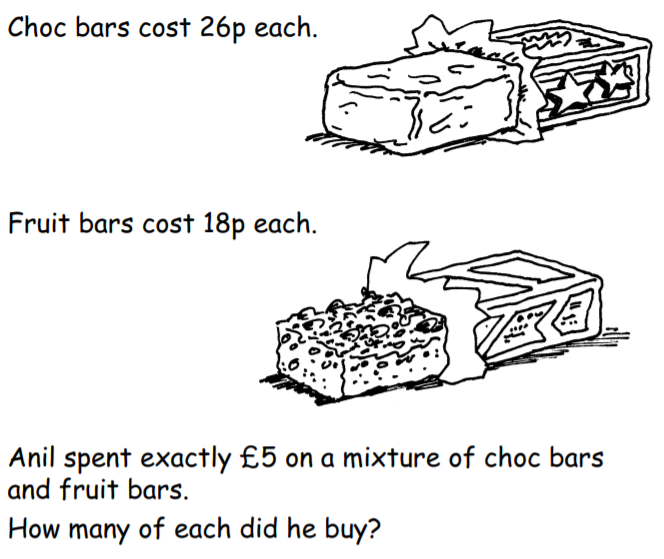 The solution:

Feeling worried?
It's a very strange time at the moment and you may be feeling worried about what is going on. Please talk about how you are feeling to people at home. It's far better to talk than to 'bottle things up'. Please find at the bottom of the page a guide to coronavirus for children. There's lots of useful information in this guide and it might answer some of the questions you may have about the virus. We are very much looking forward to seeing you all when we are back at school and are thinking of you.