w/c Monday 15th June
Here is this week's Year 5 schedule for BBC Bitesize: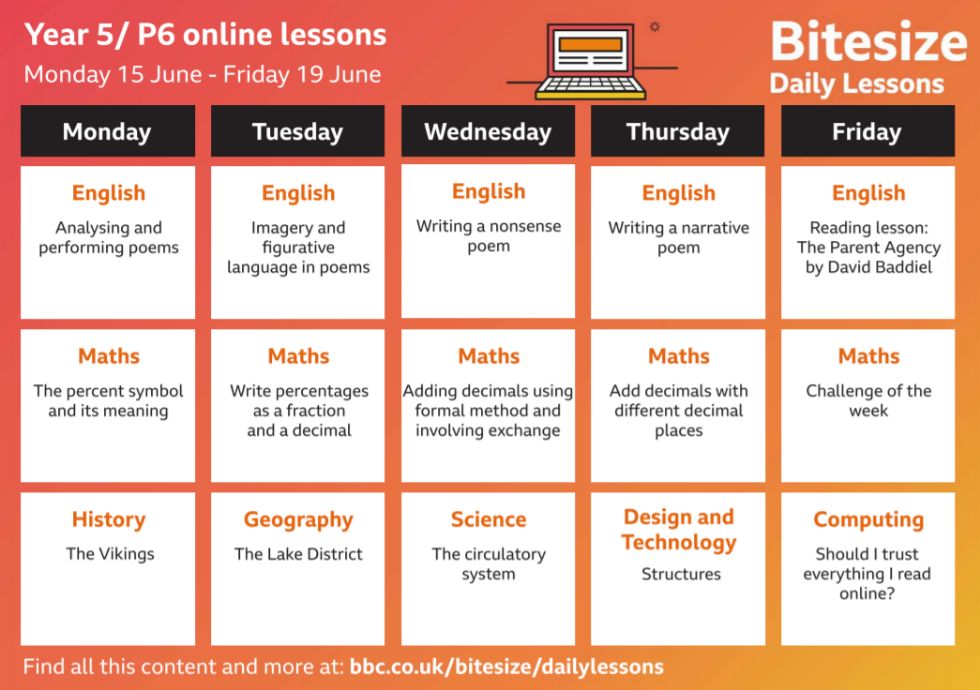 Check out the lessons for this week (week 8 – 15th June) on Oak National Academy.
This week in English you can learn all about biographies and create your very own! In maths, you can develop your understanding of multiplying, including using long multiplication. Have you ever wondered that the different components of an electrical circuit are? Find out this week. Other learning opportunities include finding out how to describe what is in Southampton in Spanish and learning how to create another optical illusion: Anamorphic Letter!
Favourites
Remember that the websites we have signposted you to previously will be continuing to add more learning opportunities. Choose the websites that work best for you!
White Rose Maths
Click on the logo below to be taken to this week's maths lessons. We are pleased to let you know that we have subscribed to White Rose Maths and the worksheets you'll need for your learning are attached at the bottom of this page. We've attached the answers too so that you can see how well you have done each day by marking your work.
The Natural History Museum can now be explored virtually – how exciting!
The famous London museum has launched 13 ways to explore the museum from the comforts of your home. You can take part in a virtual self-guided tour of the galleries, find out all about Hope (the huge blue whale that is suspended from the ceiling in the Hintze Hall) and enjoy audio guides narrated by Sir David Attenborough. There is much more too!
Are you fascinated by dinosaurs? Would you like to find out what it's actually like to go on a dino dig? Explore and find out about the Mission Jurassic expedition. You can even discover how to become a palaeontologist (a scientist who studies fossils) and find out if you would make a good dinosaur hunter!
The Natural History Museum have also got a 'try this at home' section where you will find a wide range of fun activities to try at home including dinosaur related activities (perfect for dino fans), activities for crafters and creators (including how to make a cress caterpillar and origami frog), activities for those interested in nature and much more. Have fun exploring the possibilities!
https://www.nhm.ac.uk/take-part/try-this-at-home.html
June: National Candy Month
June is National Candy Month! Created by the National Confectioners Association, it celebrates over 100 years of candy production. What would be your ideal sweet? Design your own sweet along with the packaging it will be sold in. You will need to decide upon a catchy name for your creation. How will you make your candy stand out from the rest of the sweets on the shelf? What will it taste like? Is your new product designed for children or adults? How will your packaging attract the right people?
You could create an advert to promote your sweet creation. This could be a written advert that you'd see in a magazine or you could write a script for a TV advert. Have a go at performing and filming it!
Summer Solstice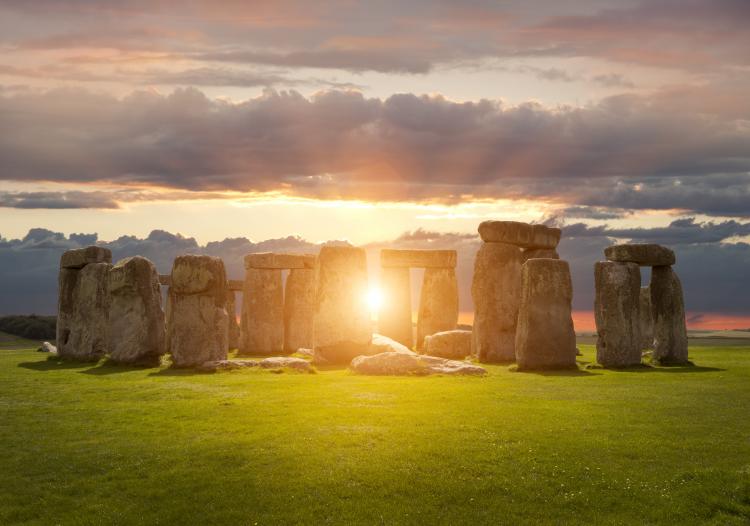 We've already experienced some very hot weather this year and so it feels like summer has already arrived, but the astronomical season doesn't officially begin until the summer solstice, otherwise known as the longest day of the year. The term solstice is made up of the Latin sol meaning the sun, and sistere which means make stand still.
There are two solstices each year. One in June and one in December. The time of the solstice is the same all over the planet, but the season depends on where on Earth you are. In the Northern Hemisphere the June solstice is the first day of summer and the December solstice is the first day of Winter. In the Southern Hemisphere it's the other way round. In the northern hemisphere, the summer solstice takes place between 20 and 22 June each year. The summer solstice happens when the tilt of the Earth's axis is closest to the sun. This year it falls on Saturday 20 June and the UK will enjoy 16 hours and 38 minutes of daylight with the sun rising at 4.43am and setting at 9.21pm.
What can you find out about the summer solstice? What have people traditionally done in June after the solstice? Why is it celebrated? Where is it celebrated? Find out!
At Stonehenge, at each solstice, the rising sun reaches the middle of the stones. Imagine you are at Stonehenge for summer solstice. As the sun rises, you touch the stones and are transported back roughly 4000 years to 2000BCE when the stones had not long been standing. Who do you meet? What do you do? How will you make your way back to your own time? You could write a diary entry about your adventures or perhaps an adventure story.
Sunday 21 June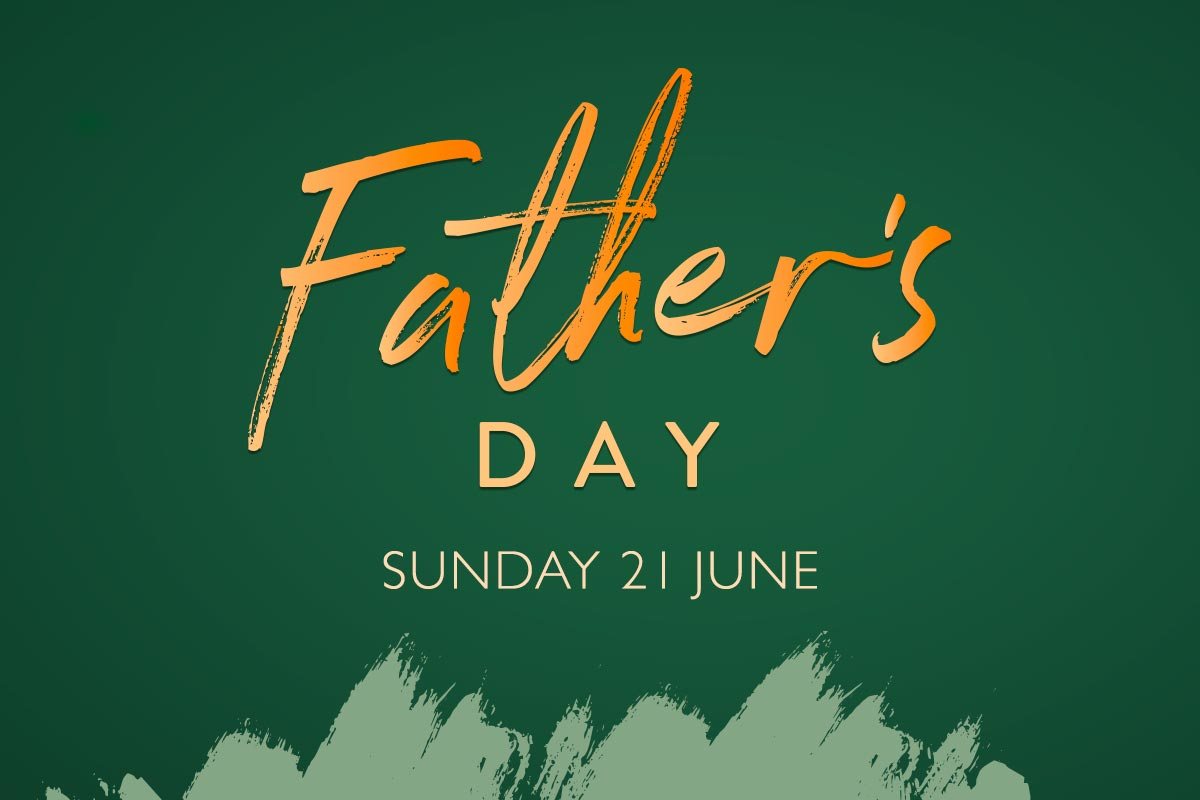 This Sunday is Father's Day. It is day to celebrate fathers and father figures such as carers or grandfathers. Have you ever wondered when it originated? How is it celebrated in different countries? Find out by clicking on the link below.
Do something special for your dad, or a male role model who is special to you, this Father's Day. You could pay them a compliment, plan an activity that they will enjoy or get crafty and make them something. Sometimes just telling them what they mean to you will make their day!
Animations
This week, we'd like you to find out about animations. Watch the clip below to discover how animations are created and the amount of work that goes on behind the scenes. Animators use a range of materials, including models, paper and pen and everyday objects to create their stop-motion animations.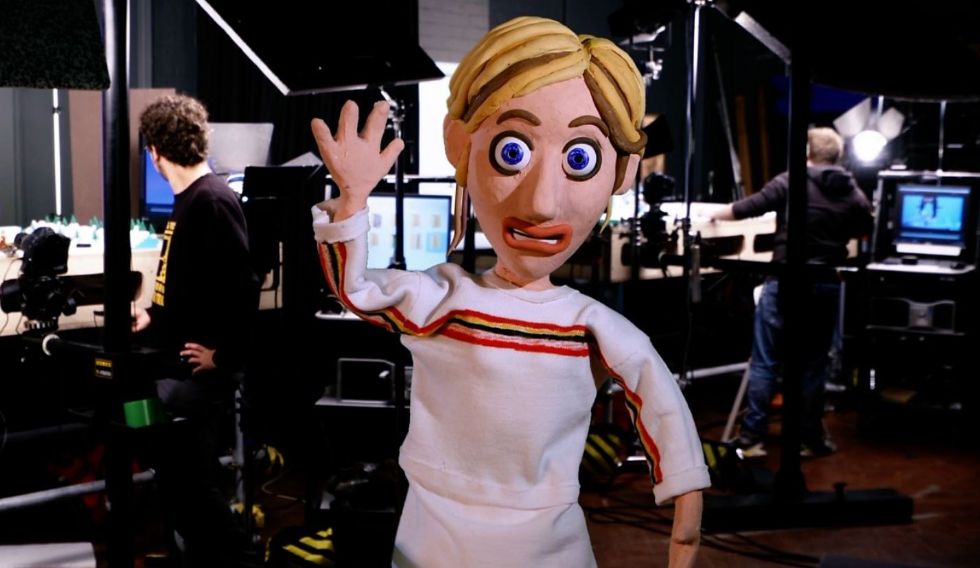 Watch the video below to learn how to create a flip book animation.
https://www.youtube.com/watch?v=Njl-uqnmBGA
Get inspired and try creating your own animation. Share your creation with people at home. Have fun!
Worksheets
Please find a new Home Learning Pack (Week 4) for this week. Remember to be the teacher and mark your work from last week to see how successful you have been – the answers are attached below.